Mwele Malecela, Ph.D., FTTA
Director General, National Institute for Medical Research, Tanzania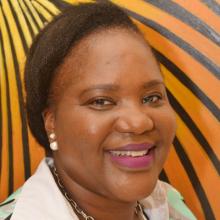 Dr. Malecela is director general of the Tanzania National Institute for Medical Research, and the first woman to hold this position. She serves as chief research scientist, and also is the director of the Tanzania Lymphatic Filariasis Elimination Program.
Dr. Malecela holds a bachelor of science in Zoology from the University of Dar es Salaam and a Master of Science, and Ph.D. in Parasitology from the University of London (London School of Hygiene & Tropical Medicine). Her area of specialization was filarial immunology, specifically on filarial immune evasion mechanisms. Dr. Malecela is a fellow of the Tanzania Academy of Sciences.
Dr. Malecela has worked at the National Institute for Medical Research for 26 years, where she started off as a junior scientist, mainly in the field of lymphatic filariasis immunoepidemiology. As director general, her work has focused on research capacity strengthening and building of strong national research systems.
Dr. Malecela chairs the Medical Research Coordinating Committee (MRCC), which is the main body responsible for oversight of health research in Tanzania. She serves on several committees and boards in-country related to health research, science, and technology and is a strong advocate of increasing the number of women working in science-related fields.
In her role as director of the National Lymphatic Filariasis Elimination Program, she brings her long research experience to efforts to eliminate filariasis, and she has run the national program since its inception in 2000. She is well known for her role in advocacy campaigns that have brought to light the real extent of the problem in Tanzania.
Dr. Malecela currently is vice president of the International Association of Public Health Institutes (IANPHI) a member of the WHO Strategic and Technical Advisory Committee for Neglected Tropical Diseases, and a member of the Medicine in Need Steering Committee on Innovation, Alliance and Translation Management (MITAM). Dr. Malecela also is on the International Advisory Board of Grand Challenges Canada. Until 2010, she was president of the Global Alliance to Eliminate Lymphatic Filariasis and chair of the Representative contact group of the Alliance. Dr. Malecela also is involved in a number of philanthropic organizations, is a member of several professional bodies, and has several publications in peer-reviewed journals. Dr. Malecela has received a number of awards, including the Global NTD Champions award for her work in the fight against neglected tropical diseases.