Beck Willis
ITI Data & Analytics Team Manager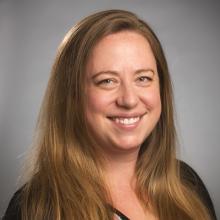 Rebecca "Beck" Willis is the ITI Data & Analytics Team Manager. Beck works with other members of the Data & Analytics Team in maintaining and using the GET2020 database. She also participates in the Tropical Data survey project, supporting protocol development, survey design, project set-up, systems management, and data analysis. Beck works closely with her team members to identify ways in which system architecture, data reports, and visual analytics can best contribute to the global trachoma elimination effort. Beck's earliest three years with ITI were spent as the sole data manager for the Global Trachoma Mapping Project, for which she managed 65 million data items for 2.6 million individuals examined in 29 countries.
Prior to joining ITI, Beck was the immunization study epidemiologist at the Georgia State Department of Public Health for four years, during which time she was able to measure the bearing of vaccine hesitancy in the minds of Georgia parents. She has a Bachelor of Arts in French Literature with a chemistry minor from Georgia State University as well as a Master of Health Science in Global Disease Epidemiology and Control from the Johns Hopkins Bloomberg School of Public Health.
Beck was a speaker at the 2017 SXSW.