Eshetu Geletu
Coordinator of Communication and Partnership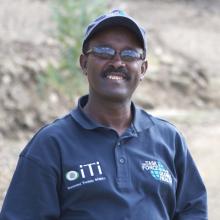 As the coordinator of communication and partnership in ITI's Ethiopia office, Eshetu conducts health communication content research, provides public health reporting skills training to other communicators, manages media relations, and facilitates key annual health events and networking with ITI partners.
Eshetu worked for 12 years in the national and international media houses, including the BBC World Service and German broadcasting service, Deustche Welle. For the BBC World Service, he was a media production consultant and senior producer for the Eastern Africa Trust's focus on development communications. He has coached several African broadcast journalists and produced more than 120 radio and television documentaries.
He received the award of best media producer of the year 2010 in UNICEF's Health Communication Competition, for his production of "Safe Motherhood Program Month" organized by UNICEF Africa and the Ethiopia Federal Ministry of Health. He also was an advisor for the BBC's Abugida media program, and his colleagues won AfriComNet 2010's annual continental Award for Excellence in HIV/AIDS Strategic Communication in Africa, in Mass Media Category.
Eshetu also served for many years with the Ethiopian Broadcasting Corporation. Apart from his constant duties, Eshetu has been enthusiastically engaged in the leadership of professional societies at national and regional levels. He has been chair of the Lambadina Institute for Health and Development Communication as well as an alternate, executive member of the Federation of African Journalists.
Eshetu has a Bachelor of Arts in Literature and Communication and a graduate diploma in advanced journalism.