Girija Sankar
Assistant Director of Programs and Communications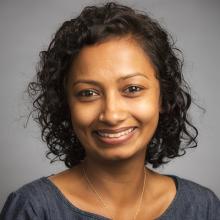 As the assistant director of programs and communications, Girija leads ITI's strategic communications and knowledge management platforms in support of global efforts to eliminate trachoma. She also supports the development and strengthening of partner relationships, including the International Coalition for Trachoma Control.
In addition to her leadership role in communications, Girija provides technical and programmatic support for ITI's drug donation to more than a dozen countries in Africa, the Middle-East, and Asia. She works closely with partners from ministries of health, international NGOs and the World Health Organization to ensure that the right quantity of the donated antibiotic reaches the right people at the right time to eliminate trachoma, the leading infectious cause of blindness in the world.
Girija has more than 14 years of experience in global health and development and has worked in India, Haiti, sub-Saharan Africa, and China on HIV prevention, women and children's health, nutrition, income security, and gender equity in technical and leadership capacities for a variety of community-based and international non-governmental organizations.
Prior to joining ITI, Girija worked at Global Health Action, where she was associate director and director of Programs. In Haiti, she led the evaluation of a community-based maternal and child health promotion program that led to marked improvements in service provision and health worker retention. In her capacity as associate director, Girija provided strategic leadership and was responsible for program development, partnerships, communications, fund raising and grants management.
Girija speaks four languages and is learning her fifth. When she is not preparing press releases or reports for work, Girija dabbles in creative writing and her work can be found on the web.
Girija holds graduate degrees in sociology and economics. She has a pre-diploma certificate in French from the Alliance Française, Chennai, India.